Pakistani Court Acquits Man Who Killed Daughter For 'Honour'
Hajira
Age: 19
Shot to Death: May 23, 2023
Residence: Karachi, Pakistan
Children: None
Perpetrator: Father Ameer Jan
In May 2023, a court in Karachi acquitted Ameer Jan of murdering his 19-year-old daughter, Hajira, in what he claimed to be an 'honor killing.'

Hajira was shot dead in front of the courthouse on January 23 of this year, where she had an appointment to provide a statement. During the attack, Head Constable Imran Zaman, who was accompanying Hajira, and a passerby named Wajid Saleem were also injured.

In a compromise reached among the family members of Hajira, the Head Constable, and the passerby, they announced their forgiveness of Ameer Jan 'in the name of Allah' and did not object to his acquittal.

The court accepted the settlement request and acquitted Ameer Jan of murdering his daughter. There was also a second settlement request concerning illegal possession of a firearm, which was also accepted by the court.
What is an honour killing?
An honour killing is a murder in the name of honour. If a brother murders his sister to restore family honour, it is an honour killing. According to activists, the most common reasons for honour killings are as the victim: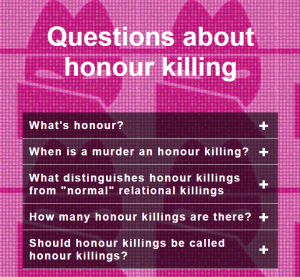 refuses to cooperate in an arranged marriage.

wants to end the relationship.

was the victim of rape or sexual assault.

was accused of having a sexual relationship outside of marriage.
Human rights activists believe that 100,000 honour killings are carried out every year, most of which are not reported to the authorities and some are even deliberately covered up by the authorities themselves, for example because the perpetrators are good friends with local policemen, officials or politicians. Violence against girls and women remains a serious problem in Pakistan, India, Afghanistan, Iraq, Syria, Iran, Serbia and Turkey.